03 September 2019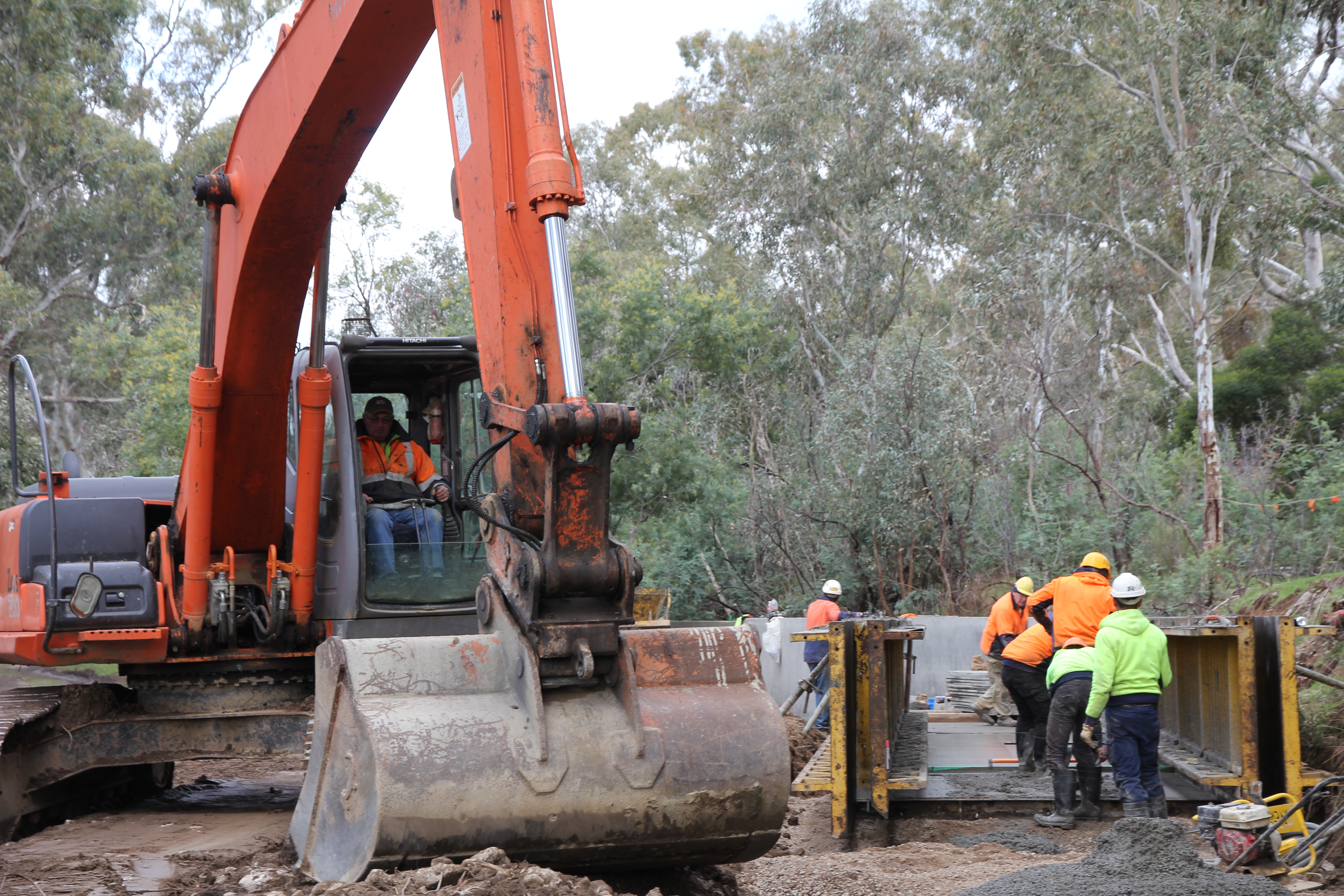 Stage two of the Coliban Main Channel Renewal Project has begun, with construction work underway in the North Harcourt area.
Coliban Water's Manager Infrastructure Corey Bourne said 660 metres of channel at six separate sites will be replaced in stage two of the project, which aims to improve efficiency and security of the channel.
"Six sections of the channel have been identified for renewal due to their age and condition, at a cost of $1.4M.  Works are underway and we expect the project to be completed later this month, weather dependent," Mr Bourne said.
Stage one of the project was completed in August 2018, which replaced 2.7 kilometres of channel over four years.
Investigation is now underway to determine whether further sections of the channel will need to be renewed in future.
The Coliban Main Channel is a critical piece of water supply infrastructure that was constructed in the late 1870s to transfer water from Malmsbury to Bendigo.
It now supplies the Bendigo and Castlemaine region with water as well as raw water to 1,349 rural water customers.
"Due to its age, the channel has a number of structures that have significant heritage value such as granite abutments, chutes and tunnel openings. Particular care will be given when working around these structures.
"The works for the renewal project are not on heritage listed structures, however, we chose to consult with Heritage Victoria to ensure compliance and protect these pieces of central Victoria's history" Mr Bourne said.
Environmental protection is an important consideration during the construction phase, with a three-step approach in place to avoid, minimise and offset the impact to native vegetation along the channel.
"Our Environmental Management Plan includes protection measures for native vegetation, wildlife and waterways and will be complemented by plans for land rehabilitation following construction," Mr Bourne said.
The project has been designed to limit inconvenience to local landowners and will not interrupt rural customers' water. Works will be suspended for the start of the 2019/20 rural season in September this year and recommence when the season closes again in May 2020.
Local residents may notice some heavy vehicle traffic and traffic management will be in place where required.
Further information contact our Customer Support Team on 1300 363 200 or visit our website www.coliban.com.au
Last updated on 05 Sep 2019