06 January 2021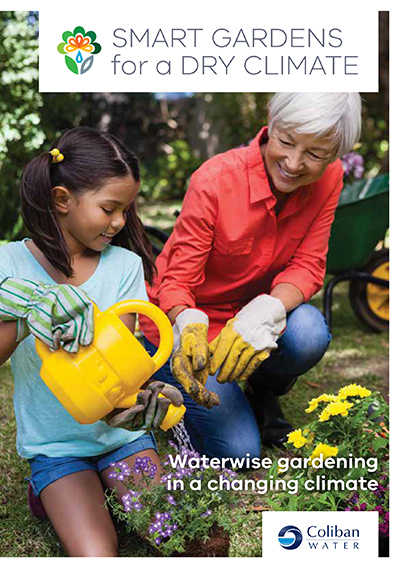 Coliban Water has relaunched its Smart Gardens for a Dry Climate booklet, a popular and helpful guide for creating and maintaining waterwise gardens in a changing climate.
Executive General Manager Customer, Community & Stakeholder Affairs Lauren McLean said the redesigned booklet is bigger, brighter and bursting with useful content and inspirational ideas. 
"The new booklet is more user friendly with advice and ideas to inspire green-thumbed and novice gardeners to create their ideal garden space that is water efficient and drought tolerant.
"A region focus section looks at soil types and climate from the nine local council areas across the Coliban Water region, and includes information on councils' green waste and gardening initiatives.
"The Smart Gardens for a Dry Climate booklet has been produced in partnership with City of Greater Bendigo since its launch in 2003 during the Millennium Drought. 
"In the latest edition we've collaborated with Dja Dja Wurrung to reflect the special connection our Traditional Owners have with the land in which Coliban Water operates and acknowledge that Aboriginal Australians have sustainably managed the land's natural resources for thousands of generations. 
"Harley Douglas, a Djaara man and project officer at Dja Dja Wurrung Enterprises, writes on the local plants used or food, medicine and fibre, and shares the Djaara language names for plants. 
"Our gardens reflect our lifestyles and the booklet features inspirational illustrations with ideas for native, entertaining, children's play, cottage and townhouse gardens. 
"The booklet also includes information on healthy soil, plant selection, water conservation practices and a visual plant guide," said Ms McLean. 
Smart Gardens for a Dry Climate was originally published in response to residents' gardens being affected by water restrictions that were in place during the Millennium Drought. 
"Our gardens have changed a lot since the drought and so have our gardening practices. Whilst we have Permanent Water Saving Rules in place now, our outdoor water use still accounts for the majority of our water consumption and there is more we can do to be waterwise. 
"Climate change and a growing population mean we need to plan for a future with less water for more people. We need to be smart about how we plan and maintain our gardens to cope in dry periods and extreme heat, whilst still being able to enjoy them as they are so important for our health and wellbeing.
"Our vision is Water to Live, Grow and Enjoy and water security is a key pillar of our Strategy 2030, our 10-year plan to address our future challenges and opportunities. Smart Gardens for a Dry Climate booklet is one way we are working with our customers and communities to ensure we secure our region's water supply," said Ms McLean. 
Smart Gardens for a Dry Climate is available in libraries across the Coliban Water region with plans to expand distribution to local council offices and community houses. A PDF version of the booklet is available on our website, as well as an online form for customers to request a copy of the booklet to be mailed to them. 
For further information see our Smart Gardens for a Dry Climate page on our website www.coliban.com.au
Last updated on 06 Jan 2021