Leaks waste water and cause high bills for customers.
If you think you may have a leak due to a higher than usual water bill, firstly, check for leaks around your home such as from taps or hot water systems.
If you can't locate the leak, you may have what we call an 'undetected leak'.
Undetected leaks:
usually need a plumber to locate
are often burst pipes either underground, under concrete or under a building
have no obvious signs of water loss, for example, dampness or excessive growth around the area
If you think you have an 'undetected leak'
Call a licensed plumber to locate and repair the leak.
You may be eligible for a rebate on the cost of the repair if the plumber confirms the leak 'undetectable'. In this case, complete an Undetected Leak Application form, making sure you attach relevant documentation, such as plumbers reports, photos and receipts.
For guidance on eligibility, see Undetected Leak Guidelines (PDF).

If it's an emergency
In a public place
Call us on 1300 363 200.

On your property
If you have a burst on your property, call a licensed plumber.If you're the tenant, also contact your landlord or property manager.
If you have no water, call us on 1300 363 200.

Stop the flow
In an emergency, stop the flow of water by turning off the stop tap at your water meter, which is usually close to the front of the property. If you can't manage to turn the stop tap off, call us on 1300 363 200.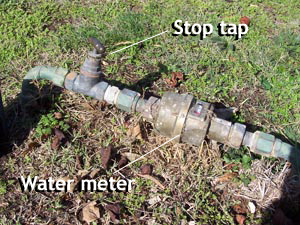 Last updated on 16 Apr 2021