We support local events and organisations with free portable water station hire, merchandise and sponsorship programs.
Portable water stations
Please note: Due to current coronavirus (COVID-19) restrictions, we will not be taking bookings for our portable water stations.
You can apply to have free drinking water stations at your next outdoor community event.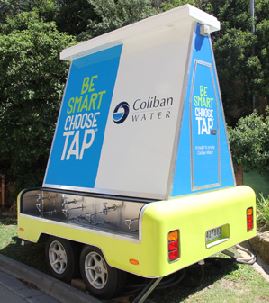 There are 3 types of water stations:
Water trailer
2 stainless steel troughs, each with 4 bubbler taps and 4 push button taps.
The trailer has 2 A-frame billboards making it easy-to-spot in large crowds.
Refill unit
Set of 9 portable refill units that can refill drink bottles or cups.
Great for outdoor community sporting events.
Bubbler unit
Lower than our refill units, bubbler units are accessible.

Portable Refill and Bubbler Units

Bubbler units can standalone or be connected to our portable refill units.
How to apply
To apply for a portable water station:
Read our Portable Water Station Factsheet (PDF 124KB).
Complete a Portable Water Station Request Form online.
Merchandise
We could provide free merchandise to help your organisation raise money or awareness for a cause.
If you would like Choose Tap or water saving merchandise, apply using our online Sponsorship Request Form.
You'll need to tell us:
your personal or organisation's details
about your cause
the type of merchandise you want (for example, drink bottles or trigger nozzles)
how you will use it (for example, in showbags or as a raffle prize)
Applications may take up to 4 weeks to process.

Sponsorship and donation programs
Every year we support different causes and events across our region through a sponsorship or donation.
To be eligible, your application needs to:
align with our mission, vision and values
relate to water, wastewater or our corporate initiatives, including Choose Tap, Accessibility, White Ribbon or our Reconciliation Action Plan
meet our Sponsorship Guidelines (PDF 42KB)
To apply, use our online Sponsorship Request Form.
Applications may take up to 4 weeks to process.
Last updated on 26 Oct 2020