To take water from a standpipe connected to the Coliban Water network, you need a water carting permit. This includes all council-operated standpipes.
There are 3 types of water carter permits:
Drinking water carter

Private water carter

Recycled water carter
Only drinking water carters can sell water for human consumption. They must also register with their council. Visit the Government's Health.Vic website to find out more.

Find a standpipe
Our interactive map shows the location and operator of each standpipe. Be sure to familiarise yourself with the traffic management plans for each location.

Apply for a water carting permit
We process all applications for water carting permits, including the use of council-operated standpipes.

How to apply
Choose one of following:
If you already have a water carter permit and need to update your details, use our Change of Details (PDF 25KB) form. Submit it by mail or email.

AvData key
If your application is approved, you will need an AvData key to use our standpipes. AvData keys are available to buy from our office for $35. At the end of each month, you will be mailed an account directly from AvData that shows the location, date, time and cost for each use.
For pricing, see our fees and charges page.

How to use a standpipe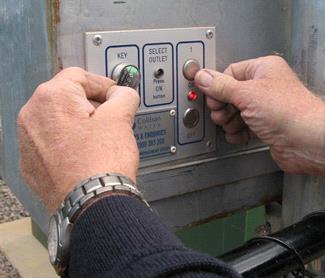 Hold your AvData key to the panel
Press the 'On' button to start the water flow
Press the 'Off' button to stop the water flow. This may take 10-20 seconds.
The hose may not always reach your tank. You may want to use a 90mm pipe to help direct water into your tank.
When using a standpipe, you must:
Last updated on 22 Mar 2020