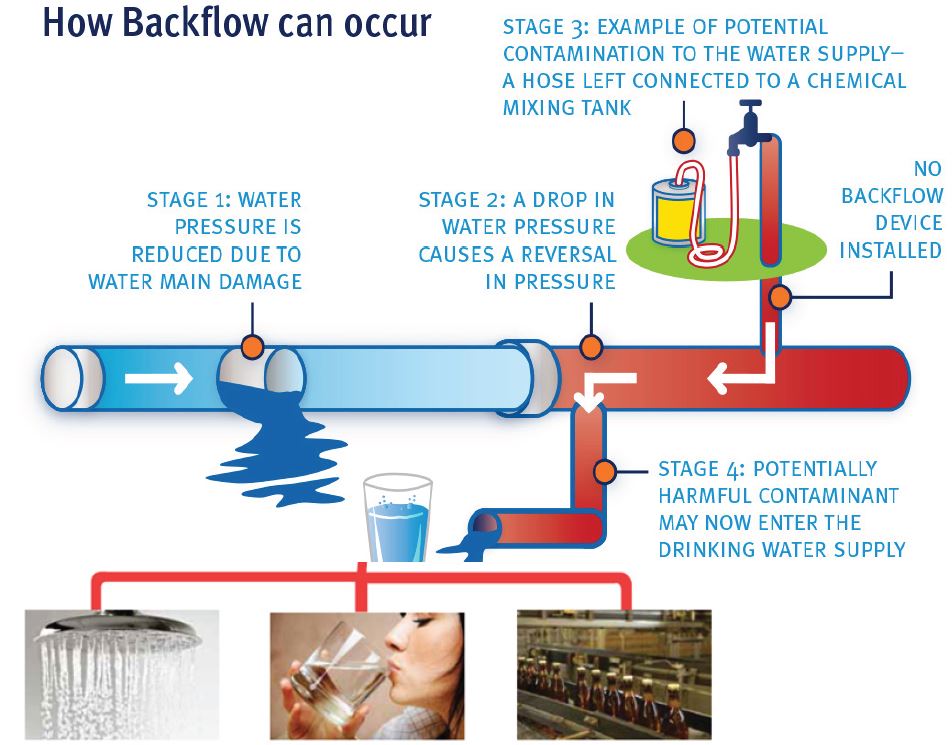 Backflow is the reverse flow of a liquid into the drinking water supply.
Backflow from an industrial or commercial property that uses harmful substances could pollute the local water supply.
For example, a hose left running in a container of toxic chemicals could result in harmful backflow. A sudden drop in water pressure could cause the liquid to be siphoned back through the hose and into the water supply.
The installation of a backflow prevention device protects the water supply from this very serious situation.

Commercial and trade waste customers
If you're a commercial or trade waste customer you must provide a backflow prevention device immediately downstream of your water meter.
Without a backflow prevention device, you risk:
causing serious illness or death
prosecution under the Water Act 1989
substantial financial losses and litigation (such as Workcover, and Occupation Health and Safety claims)
being disconnected from the water supply.
Installing a device
It's the property owner's responsibility to make sure that a suitable backflow device is properly installed and tested. Only plumbers with a Water Supply license are qualified to install a device.
Here's what you need to do:
 
1. Get a risk assessment
Arrange for an accredited plumber to assess the potential onsite hazards of your property.
The hazard ratings are:
High hazard - potential to cause death.
Medium hazard - potential to endanger health.
Low hazard - constitute a nuisance but not endanger health.
2. Choose and install a device
Your accredited plumber will recommend and install a suitable device based on your property's hazard rating. If installing a device in a medium or high hazard area, your plumber must be licensed in Backflow Prevention.
 
3. Test your device
Medium and high hazard devices need testing annually by a plumber licensed in Backflow Prevention. Results must be lodged within 28 days to either Coliban Water or Coliban Water's agent:
CIS Services Pty Ltd
4 Florence Street Burwood VIC 3125
plans@cis1.com.au inspections@cis1.com.au
Last updated on 21 Feb 2023