Water Cycle
Foundation to Grade 2
Do you know where your drinking water comes from? Where does the wastewater go? Students will explore the water cycle and the impact we can have on it by saving water around the home and only flushing the 3 Ps in this interactive session.
Curriculum:
science
geography
design and technology
Flushed!
Foundation to Grade 6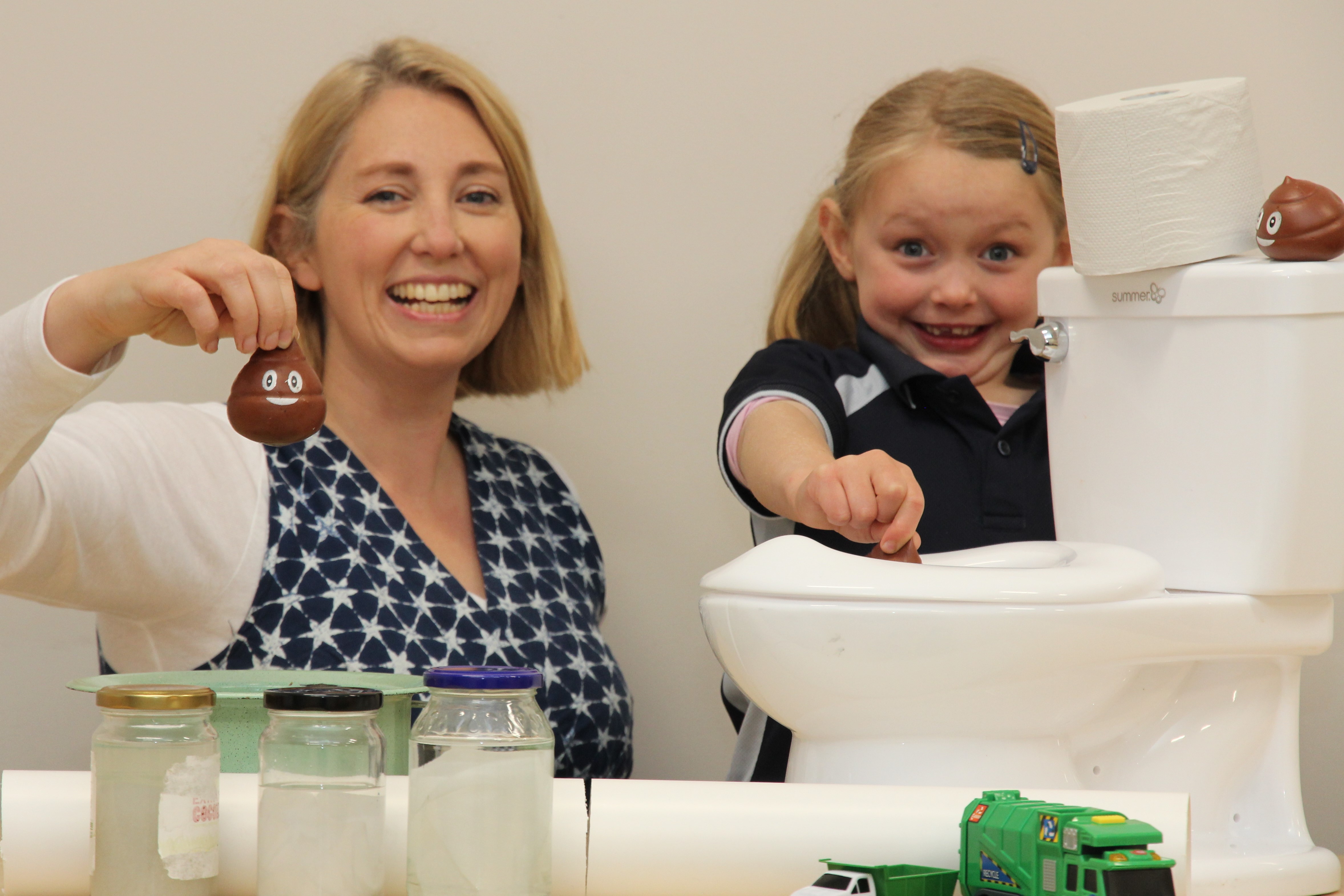 Find out about the cheeky history of Bendigo's wastewater, including historical documents and photos that show the differences in waste management between our grandparents' generation and now.
Curriculum:
history
science
geography
design and technology
Choose Tap
Foundation to Grade 6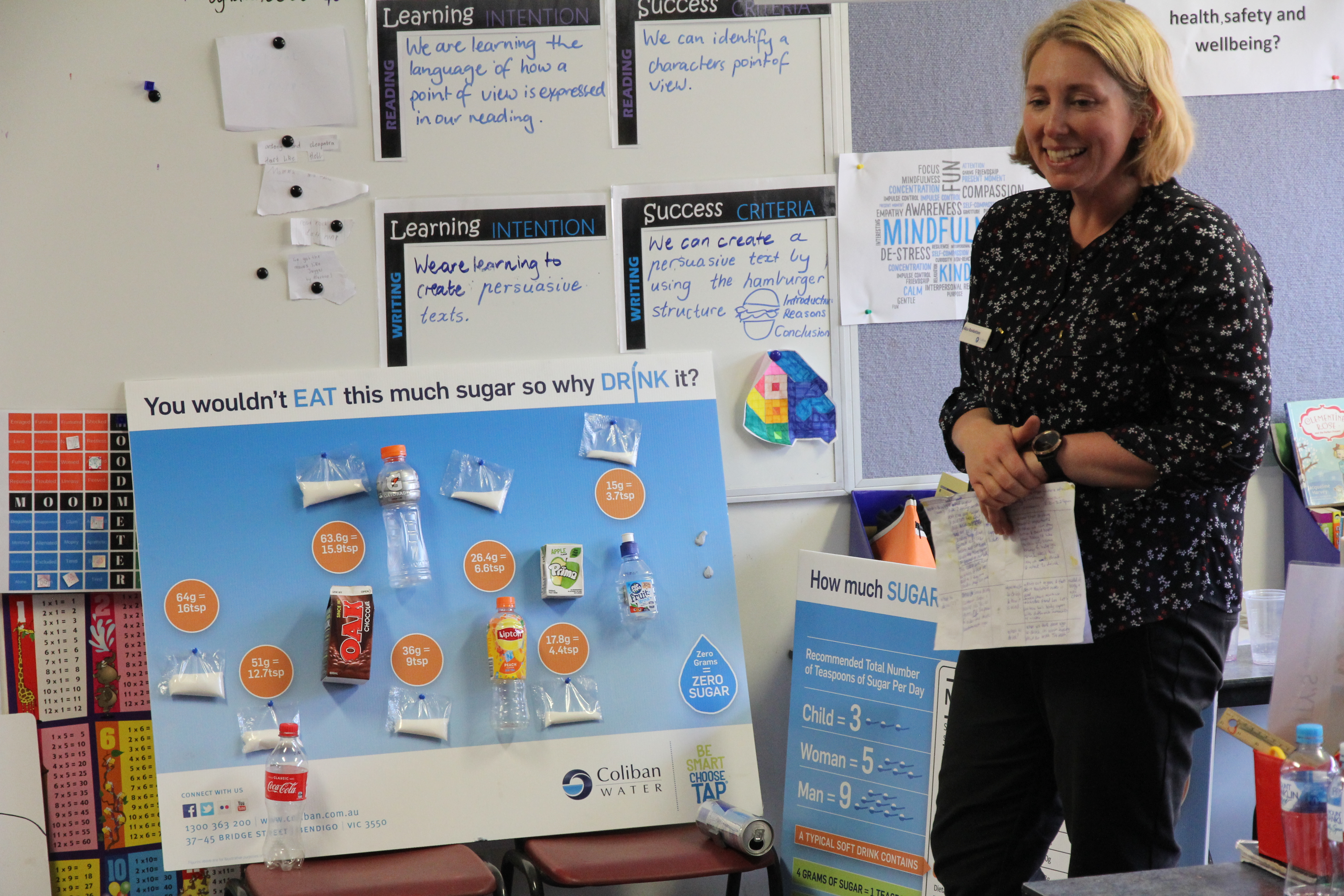 Every day we can make choices about what to drink. But have you ever thought of the health, environmental and economic implications of what you drink? In this session we use experiments, demonstrations and fun activities to find out acidity, sugar content and how much we should be drinking.
Curriculum:
Resources
Water Cycle Yoga
We understand that people have a range of learning styles and that some students are kinesthetic or tactile learners - they learn best in a hands-on session while physically moving and doing.  The Water Cycle Yoga Session is designed to help tactile learners process and retain information about the water cycle.
For school aged children, yoga and mindfulness can reduce anxiety and stress. Yoga has also been shown to improve:
•    physical and mental health 
•    balance, strength, endurance, and aerobic capacity 
•    focus, memory, self-esteem, academic performance, and classroom behaviour
We hope you enjoy sharing this yoga session with your students.  No materials are required; students will need some room to move and lie down. 
There are 2 versions:
13 minutes, when students are calm and ready for yoga.
18 minutes, begins with a 'shake your sillies out' exercise 
Have you used this with your students? Let us know!
When Water Lost Her Way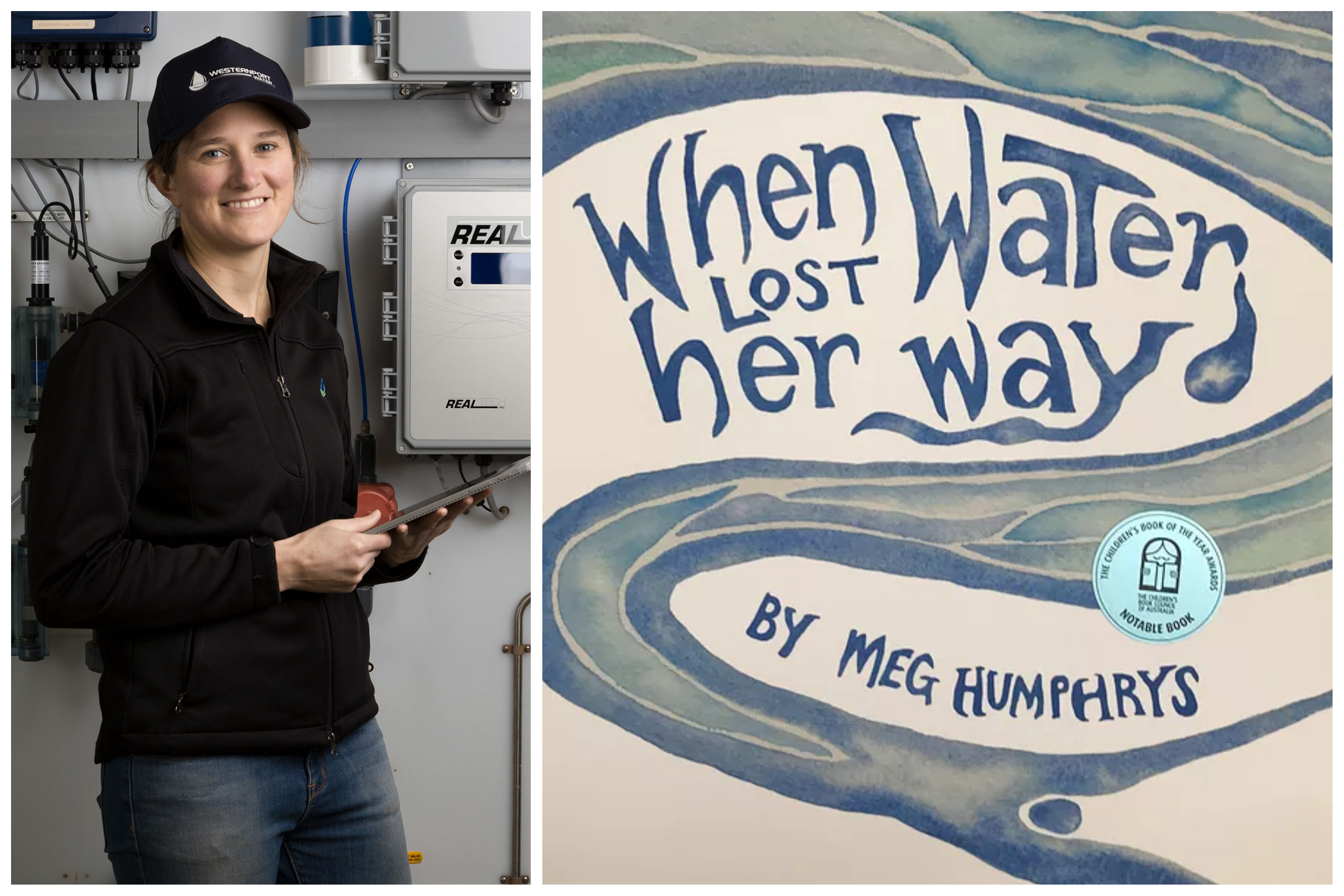 To celebrate Curious Creatures, Wild Minds Book Week in 2020 we worked with Meg Humphrys, author and illustrator of When Water Lost Her Way.  The book features the water cycle and a very curious creature – a cave salamander!  Meg combined her interests in art and science to create a fictional story about a scientific process. Upper Primary, Science & English. 
View the audiobook online.
Author interview
Water cycle meditation - written and produced by Meg Humphrys
What happens when science meets dessert? An edible aquifer, of course! An aquifer is a collection of wet, underground rocks that allow water to pass through them slowly. Presented by Meg Humphrys and produced by Coliban Water. 
To purchase copies of the book and further teacher resources visit the publisher.
Taps and Toilets
Your students will become engineers in our Taps and Toilets simulation. We will send you instructions and materials at no charge.  You will also need scissors, tape, cups or bowls (optional, to show students where the hills are) and coloured straws or paper for pipes.  Email us for details.  
Print activities to use in your classroom:
Units of Water (PDF 188KB)
Water Cycle Game (PDF 9.3 MB)
Understand Your Water Use (PDF 311KB)
20 Ways to Save Water (PDF 1.4MB)
Home Learning: Water Cycle Unit
Learn about the water cycle with a mix of online and hands-on activities: 
Other resources
Use fun, online resources to teach students of all ages about the value of water:
Join the Waterwatch
 program to monitor waterway health.
Become River Detectives
 and explore local waterways.
Find leaks, save water and promote water efficiency with the Schools Water Efficiency Program (SWEP)
.
Learn about water management in Victoria with Kids Teaching Kids
 documentary.
ResourceSmart Schools
 is a free program offered by Sustainability Victoria that helps schools become more sustainable, with a water module and school water audit. For more information, contact resourcesmart@lmwrrg.vic.gov.au
Water - learn it. live it (Water-lili) is a free resource jam-packed with information and activities to explore water in the classroom.
Volume 1: Water in the Natural Environment (PDF 4.5MB)
Volume 2: Water in the Urban Environment (PDF 5.4MB)
Volume 3: Water in the Community (PDF 3.3MB)
Activity Book
We offer a fun and educational Coliban Water Activity Book (PDF 3.3MB) which is used as part of our school visits and community engagement. If you'd like a printed copy, please email communications@coliban.com.au
Answers
Page 1 - How does water get into my tap?
1. Clouds
2. Reservoir, river or ground
3. Water Treatment Plant
4. Clearwater storage tank
5. House
Page 2 - Spot 10 differences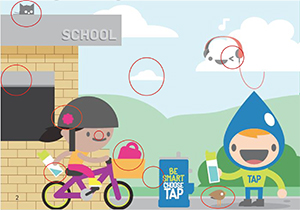 The 10 differences are:
1. Cat on school roof has moved
2. The sticker on Ebbie's bike helmet has changed
3. The bag in the front basket of her bike has moved
4. The bird on the ground has changed direction
5. The cloud is winking
6. The blind on the window has moved
7. The bush in the background has disappeared
8. There is water in the drink bottle that Ebbie is carrying
9. There is an extra cloud in the sky
10. Ebbie's red nose disappears
Page 3 - Pipe Maze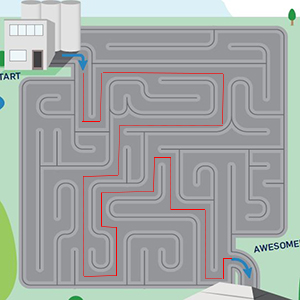 Page 5 - Water word search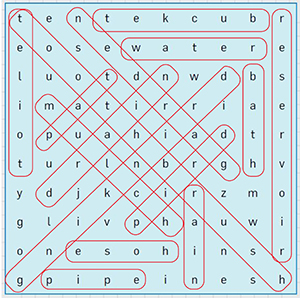 Page 6 - Spot 7 differences
1. Curtain in window has changed
2. Tap's tongue is missing
3. A flower on the bush is missing
4. A new cloud appears
5. The lightning bolt on Oswald's cap is different
6. There are extra water puddles under the sponge that Tap is holding
7. The water on the car's front side window has disappeared
Page 10-11 - Clueless crossword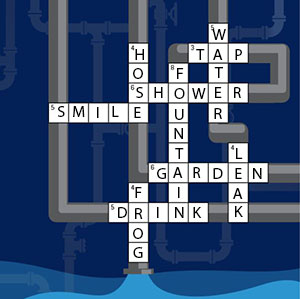 Page 12-13 - Saving Water in the House and Garden
Washing machine - 1
Trigger nozzle - 2
Wheelbarrow of mulch - 3
Shower head - 4
Toilet - 5
Hose leak - 6
Plant with red flowers - 7
Shower - 8
Fountain - 9
Bathroom sink - 10
Cassie brushing her teeth - 11
Sprinklers - 12
Rainwater tank - 13
Dishwasher - 14.
Well done!
Page 14 - Dot to Dot
Growling Grass Frog
Page 15 - Bin it, Don't flush it
Items for the bin:
Rubbish
Cotton buds
Wet wipes
Tissues
Paper towels
Items for the toilet:
Pee
Poo
Toilet Paper
Last updated on 19 Apr 2021